Tel: 086-510-88551966 88550900
Fax: 086-510-88551121
URL: http://www.wxasaya.com
E-mail: asaya@wxasaya.com
Zip: 214112
Add: No.22,xihong Road, Xintai Industrial Technical,Meicun Town,Wuxi , Jiangsu , China

Wuxi ASAYA Printing Equipment CO., Ltd was established in Wuxi City which called "a land flowing with milk and honey" in 2000. Wuxi has convenient traffic and rapid development, and these ascendant condition helps ASAYA to be a creative company.
These years after the company established, ASAYA is always trying the best to sell the screen ink which produced by JUJO chemical CO., Ltd. After making great efforts, ASAYA has created a broad selling network.
JUJO chemical CO., Ltd as the NO.1 screen ink producer of Japan is very famous in screen printing industry. It is about 50 years¡¯ development history till now, and JUJO has excogitated many kinds of screen ink which are much more advanced than the other company. In China, Asia and Europe, JUJO becomes a compelling company.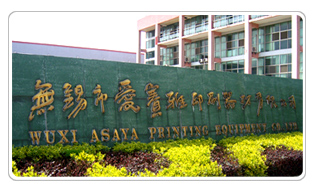 As the agent of JUJO, ASAYA also receives great support from JUJO Technical Department, so we can give the customer effective helps in time. ASAYA always insists on ¡°Prestige first, Customer is supreme¡±, and we enhance communion with the guests and improve our technology by stated
training.
We hope that we will get a better future and give the customers best service as usual.